Samsung Galaxy S3 – Best Media Sharing Phone 2012
Well everybody has been in awe of Samsung Galaxy S3. Indeed it is one hell of the phone with latest technology and best sharing capabilities.
I read somewhere -
"BEING SOCIAL IS WHAT BEING HUMAN IS ALL ABOUT".
Keeping this tag line in mind I will unveil to you the sharing capabilities which makes Samsung Galaxy S3 so special and in fact the best in it's class.
1. S-beam feature
Samsung Galaxy S3 has the unique ability to bond instantly with another S3. It uses the NFC (Near Field Communication) technology with wi-fi direct to make the bonding happen. Over here I am talking about the bonding (connections) between two S3'S.
Let me explain you by an example – If you want to share video that you recently made in college or any other place then you simply need to keep the two S3'S approximately 5mm apart and just touch the content that needs to be shared. In fact from now on all the phones would be S-beam enabled and soon this technology would be widespread. This technology is the fastest and efficient as compared to the traditional Bluetooth or any other mode of file transfer.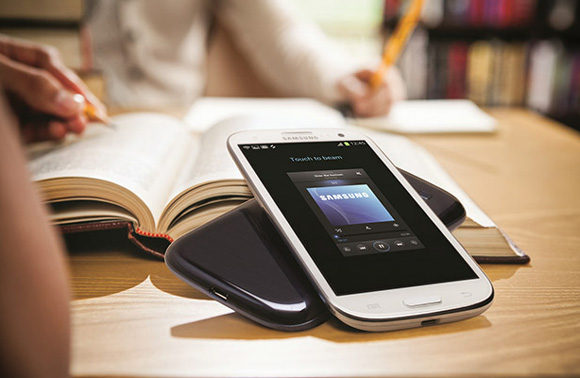 2. AllShare cast
This is yet another sharing method which I found very fascinating.
"Let's you play together".
Indeed you can wirelessly play videos to a bigger screen. The video though played on bigger screen has control in your hands that is can be monitored through your Samsung Galaxy S3 device only. It is equipped with All share cast dongle to let you share the content with any HDMI device.
3. Buddy Photo share
"Share your photos with friends instantly"
Let me explain you by another example – The world being social, many of us click pictures and often forget or due to lethargy we don't share with our friends. But now with the Buddy photo share, face recognition is done and the photos is received to your friend simply with a click.Indeed it is that simple.
4. AllShare play
"Let's you enjoy together"
This is another sharing media content which gives you remote access to the documents.
For example – If I have saved a document in USA on a desktop then with the power of internet and S3 you can access your document or perhaps any other file of any format without being physically present there.
5. GroupCast
By the virtue of Group cast it enables and let your friends see what you are seeing at the same. It enables a group of friends watch the same video even if it is possessed by only one of your friends. In this your friends group of circle can suggest, comment.
Well I have listed the top sharing methods that makes the S3 stand out of the crowd. Hope you like it!!
The following two tabs change content below.
Latest posts by Shitij Jain (see all)